To order multiple publications, download this publications order form. Download now: Forms Book, Bench Book, Level I Study Guide, Level II Study Guide
For more information on individual publications see below:
Textbooks
Featuring both historic and contemporary issues, The Municipal Judges Book critically analyzes the nature of municipal courts and the judge's role in the Texas criminal justice system. An ideal textbook for new judges and others interested in procedural and substantive laws impacting Texas municipal courts, the content includes (1) an introduction to municipal courts and the Texas judicial system, (2) judgments, indigence, and enforcement, (3) rights of the accused and victims, (4) contempt, (5) the adjudication of juveniles in municipal court, (6) judicial ethics, and (7) legal research. Revised 2016. $25.00
The Municipal Judges Book is available for sale as an eBook for $9.99 through several different platforms. It can be purchased from:
Bookbaby, our eBook host
https://store.bookbaby.com/book/The-Municipal-Judges-Book
Amazon (for kindle):
https://www.amazon.com/Municipal-Judges-Book-6th-ebook/dp/B01MS4I87I/ref=sr_1_2?ie=UTF8&qid=1485529361&sr=8-2&keywords=the+municipal+judges+book
Barnes & Noble (for Nook):
http://www.barnesandnoble.com/w/the-municipal-judges-book-ryan-kellus-turner/1125442774?ean=9781483583051
It is also available through:
iBook
Scribd
Baker & Taylor
Copia
Gardners
This is formatted to be downloaded the same as any other ebook. They can either enter their platform's store depending on their eReader (i.e. Kindle, Nook, iPad all have different eBook stores) and download directly to their devices, download through a web browser on their computer and use iCloud or plug their device into their computer to transfer the eBook file.
---
---
Procedure Manuals & Forms
The TMCEC Bench Book is a reference guide for Texas municipal judges serving in their capacity as trial court judges and magistrates.  It is designed for quick reference and contains scripts and easy-to-follow procedural guidelines as well as references to applicable statutes, Attorney General Opinions, and case law. 
The 2017 TMCEC Bench Book (Twelfth Edition) incorporates important statutory changes from the 85th Regular Legislature. Notably, the passage of S.B. 1913 and H.B. 351 (85th Legislature) brought significant procedural changes aiming to protect low-income defendants and improve the assessment and collection of fines and court costs in municipal courts, as well as other courts with criminal jurisdiction. The TMCEC Bench Book includes new procedures required by these changes including: judicial inquiry into a defendant's ability to pay when cases are handled in open court; broadened judicial discretion for using community service and waiver of fines or costs; expanded methods to discharge judgments through community service; doubling the minimum amount earned for jail time credit and community service to $100 per day; restrictions on municipal judges' use of bail bonds; and new notice requirements regarding opportunities for alternative means available to defendants facing an inability to pay.
Order copies directly from TMCEC: $25.00 each. Or download this publication by clicking here.
The TMCEC 2017 Forms Book provides over 250 ready-to-use forms, notices, letters, warnings, and ordinances specific for use by municipal judges, court clerks, and municipal prosecutors. These forms may be modified to suit the individual needs of each court. 
The 2017 Forms Book (Thirteenth Edition) contains 43 new or updated forms, reflecting changes from the 85th Legislature. New forms include: Failure to Appear Offense Notification; Release on Personal Bond after No Timely Demand; Release on Personal Bond – Certain Mentally Ill Defendants; Mental Illness Assessment Notification; Show Cause Notices; and Order of Expunction. Many forms have also been updated to include legislative amendments, including most Judgment forms, Magistrate forms related to mental health, Community Service forms, Waiver of Payment of Fine and Costs for Certain Defendants and for Children, Installment Agreement Order, and Capias Pro Fine forms. 
The TMCEC 2017 Forms Book was designed as a companion to the TMCEC Bench Book. Order copies directly from TMCEC: $25.00 each. Or download this publication by clicking here.
The Texas Truancy Court Resource Manual is a collaborative effort of the Texas Justice Court Training Center (TJCTC) and the Texas Municipal Courts Education Center (TMCEC) to help truancy courts (Effective September 1, 2015, justice and municipal courts are designated as truancy courts. Sec. 65.004, F.C.) address the challenge of construing and applying more than 50 new statutes in the absence of legal precedent. This manual is part bench book and part forms book with procedural checklists and 40 forms. This manual is only available as an online publication. There are no printed copies. All the material in the manual is available for download here.
---
---
  
The Rules of Evidence handbook was created to condense critical information for conducting a bench or jury trial. 
The Texas Class C and Fine-only Misdemeanors handbook (the "Green Book") represents a comprehensive effort to compile all Class C, fine-only criminal offenses under state law. Covering 26 codes and containing roughly 1,300 offenses, it includes statutory cites for both the offense and penalty provision(s), the fine or fine range for each offense, DPS reporting codes for those offenses that have assigned codes, and notes those offenses that are enhanceable or for which circumstances would heighten the punishment category. An appendix contains the list of moving violations promulgated by DPS in the Texas Administrative Code. The book also contains indices with traffic offense and Penal Code offense titles that correlate with those indices contained in the Texas Criminal and Traffic Law Manual. 
The 2017 edition includes 58 changes, including 14 new entries, 36 modified or amended entries, and 8 entries removed or repealed. New tabs are included for the sections most likely to be referenced on a daily basis: (1) Chapter 106, ABC; (2) Rules of the Road; and (3) Appendix. Order copies directly from TMCEC: $10.00 each+ $3.95(S&H).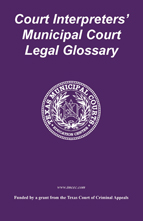 The Court Interpreters' Municipal Court Legal Glossary is a combination of the Spanish glossary and definitions provided by the Texas Department of Licensing and Regulation for those studying to be licensed court interpreters. Order copies directly from TMCEC: $10.00 each+ $3.95(S&H).